I have just received my copy of the latest
Pinyon Review
, a journal "celebrating the arts & sciences". This is the May 2013 edition, Number 3.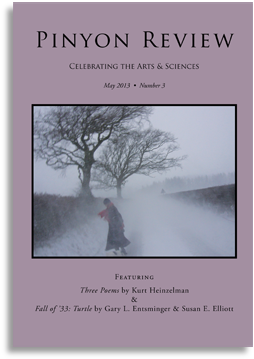 The journal includes the work of eight contemporary poets, including Kurt Heinzelman,
Diane M Moore
and
Dabney Stuart
. The ethereal cover photograph depicting a Spring blizzard is taken by Rob Walton.
Kurt Heinzelman
's poem
Cabbage Hauling
evokes wonderful images of travelling to work in the fields:-
"...hydras
of stammering cabbage heads
whitened with lickspittle hoarfrost,
knotting like water at the brim..."
Another featured poet,
Richard Cecil
, dreams of visiting Paris in his poem,
La Vie Parisienne
, but it was his second poem,
Faculty Annual Report
that I loved. It remorselessly lists the (lack of) achievements of a university lecturer, who seems to have lost all enthusiasm for his work, summed up in the final lines of the poem:-
"
...
Service to the University:
Attended pointless meetings of committees.
Attended pointless meetings of committees."
Having worked for a council-run museum, I can wholeheartedly identify with this feeling.
A tantalising chapter from the new book by
Gary Lee Entsminger
and
Susan Elizabeth Elliott
is included:
Fall of '33
.
In the book, "12-year-old Eva looks back—observing, associating, remembering the fall of 1933, her last twenty days on her family's farm nestled in Virginia's Blue Ridge Mountains."
For me, the language and descriptions are so enjoyable to read, and conjure up the time and place perfectly:-
"Billy and I walked beside the creek. The sycamores were smooth, shiny white-barked, and their leaves had begun to fall. The blackbirds were gathering, cackling, talking to each other, one branch to another. We stopped where the creek pools and tossed in leaves, watching them swirl downstream. I asked Billy if he wanted to play Invisible Universe."
The journal also features the work of two artists,
yours truly
, and Mary Moran Miller. Mary Moran Miller makes sculptural baskets made from painted watercolour paper, that she cuts into strips and weaves. The results are stunning: a mixture of beautifully-judged colour, pattern, texture and form.
To get your hands on a copy of this wonderful journal, please visit the publisher's website:
Pinyon Publishing.
1 Austerity Britain and 9 Green Britain Patchwork Flags
(commission for EDF, 2009)
By
Fire Horse Textiles